Friday Feed . . . Doing things and stuff.
Call me Karen. (writing words)
Me this week. Chuggin' coffee and bangin' out the words. I had gotten my historical romance pitch/proposal--you remember, the one I'm trying to get accepted into an anthology that's set to be pubbed next year--all shiny and sent off to my agent, when she let's me know that I need sample pages of the actual story. Written. Words forming sentences and everything. Eeeeeeep. Like, ASAP.
I wasn't even sure I could do that. I mean, I don't normally write historical fiction, so I had planned to read a ton of it before writing the story. Anywho, I wham-bammed out FIVE pages. Got them all shiny, and now, they're in my agent's hands. Double Eeeeeep.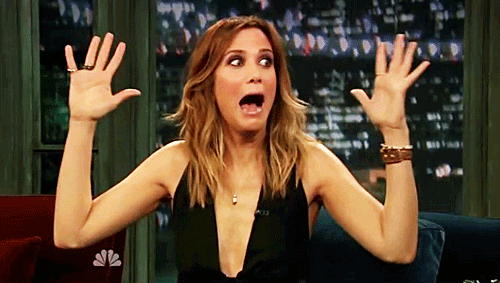 Even if my pitch doesn't get picked for the anthology, this was such a good experience. Pushing myself out of my normal genre and comfort zone has been intense, but extremely beneficial and worthwhile.
Luke, I am your mother. (kiddo corner)
This week started out on a high note, Monday we went to an awesome new play place with friends and then out for donuts. Then, Lukey got a fever. We had to cancel our plans for Tuesday and Wednesday because he wasn't feeling well. So we just hung out at home. Read a ton of books, ate a lot of fruit, and chilled.
By Wednesday afternoon, he was feeling like a new toddler. So Thursday's playdate still happened. WOOT. Today we have another playdate, and then Saturday is our super busy day.
Saturday morning is Touch a Truck. Whaaaa?! Lukey is gonna LOSE his MIND. Holla. Then, Saturday afternoon I'm going to a friend's house to work on my DIY fence post growth chart project. You remember, the one where I spent wayy more then what the blogger had spent on hers. Ohh well. Still super excited to see how it turns out.
Pix for your viewing pleasure . . .
Just keep swimming. (all the randomness)
You're born with 300 bones, but when you get to be an adult, you only have 206. (Sited)
Enjoy my Friday Feed? Here's more to delight you.
Crayons: rainbow paste in my toddler's mouth . . . karen